If you have gone through the previous post and decided to start learning XI, this article will help you create your first XI scenario. You will understand the concepts better since do-it-yourself is always the best approach rather than simply reading through. I assume that you have read the previous post and are by now fairly familiar with the architecture of Exchange Infrastructure. I shall still introduce the different components of XI Architecture in course of this example.
The Scenario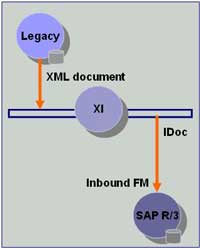 A custom XML document containing certain data is picked up from the file system by file adapter. The message is mapped to IDoc-XML format and then routed to the IDoc adapter. A custom IDoc is posted into the partner R/3 system by means of a call to an inbound function module. Data is updated into custom DDic tables in the R/3 system. A custom IDoc type ZRZORDER and message type ZRZSO_MT have been defined in target R/3 system.
Overview of DDic tables
Custom IDoc ZRZORDER contains three segments to hold the data records of these tables. If you haven't already created, create three data dictionary tables as shown below: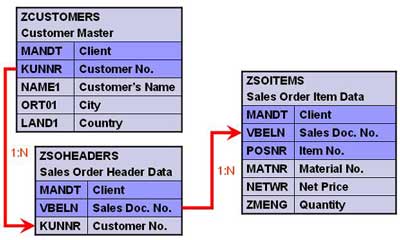 In this example we are using a custom IDoc. However, you may use any existing IDoc to try out this scenario. To understand how to create a custom IDoc, refer to my post on ALE and IDocs.
Courtesy of http://www.riyaz.com. Click this link to read entire article.